Text: Mark 4:26-34
There's been this bare track across the yard in front of our house, ever since Bill Severs generously brought his equipment, labor, and expertise to bear on a leaky water main pipe that feeds both the manse and the church. The plumbing issue got fixed quickly, but it wasn't until this spring that we got around to re-seeding the bald strip. My hope isn't that it will be perfect—the lawn here is a wonderful riot of different blends of grass and clover (and yes, some crabgrass mixed in). I'm just looking to get it to blend in.
But I appreciated Jesus' first parable today. He talks about the kingdom of God being like someone scattering seeds on the ground, and I can see it. You can scatter the seed, and you can even water it, but in the end you're trusting in a process that you can't control, that follows its own timetable and draws on its own sources of energy. You can't make the grass grow any faster. You just have to let it be, to let it do its thing.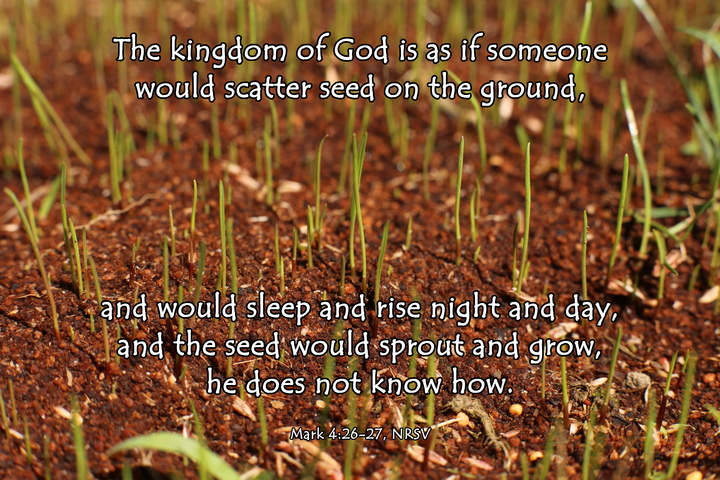 God's kingdom is the world that God is building all around us. It's the creation ordered and at peace, the way God intended it to be. It's all wounds bound up, all tears wiped away. It's the wolf and the lamb lying down together. It's a reality that seems so distant from life as we experience it in the here and now, and yet it's the source of our yearnings. Whenever the psalms cry out with the words, "How long, O Lord?", I hear an echo of the longing for God's kingdom that I know is present in me. And whenever I see someone reach out in kindness when they don't have to, whenever I see someone speak up for an outsider, when I look back over the years I've known someone and see how they've grown in confidence and generosity, then I start to believe Jesus was right when he said the kingdom is near. When does God's kingdom feel far away for you, and when does it feel near?
The human activity in this parable is limited to two things: the sowing and the harvest. For Jesus, sowing is all about spreading the message. It's declaring and demonstrating the nearness of God's kingdom. And sometimes he does it with words, with the stories he uses to teach the people. But often he does it in other ways—helping a paralyzed man stand and walk, commanding evil spirits to leave their victims alone, and pronouncing God's forgiveness and mercy. All these are ways of showing that the kingdom of God is near, and because of that people are called to respond by changing the direction of their life. That's how the seed is planted, takes root, and begins to grow. On the other hand, the harvest is yet to come. The harvest is a time of gathering in the fruits that have grown, a time for enjoying and celebrating what the seed has produced. It represents the end of the age, when all of God's promises come to fruition. In the middle is a time of waiting, of going to bed and getting up, a time when it isn't necessary to understand how the seed is growing. This is a time for God to coax life out of the seed, in God's own time and in God's own way.
If you think your life is too insignificant to make a difference, then listen seriously to what Jesus says about the mustard seed. It is so tiny, so apparently empty of power or promise or significance, and yet when it grows it provides shade and shelter for the birds of the air. Your life, your witness to God's kingdom, is like a mustard seed. Who's to say that your kind word or brave act today won't make all the difference in the world to your neighbor?
Jesus wants us to be sowers of the seed, and to let God be the grower of the seed. He wants your life to scatter the seed of God's kingdom in your family, your neighborhood, your workplace or school, our nation. What are the longings and hurts that cry out? Listen for them. Be a healer. Be a hope-giver. Scatter the seeds everywhere, and leave it to God to make something of them.
Friends, I think it's important today to say something about an ongoing hurt in our world. You might have seen in the news that Department of Justice has decided to take the position that it's going to use criminal prosecution for everyone who tries to enter the country anywhere other than an official border crossing. Now, in just the same way that a traffic cop doesn't have to give you a ticket if he pulls you over, the government doesn't have to prosecute everybody who enters the country illegally. But when they apply this new zero-tolerance policy to families with children, it means separating kids from their parents. So there's a mother in immigration detention who claims that the government pulled her nursing infant away from her. There are parents who have told lawyers that they were told their children were being taken to be bathed, only to realize that they weren't coming back. One father became so distraught at being separated from his family that he suffered a breakdown and took his own life.
If you're a parent, you can probably think of a time you lost track of your kid at the store or some public place. Or if you're not, maybe you can remember being a child and realizing, to your horror, that the grown-ups you were counting on to be there weren't. There's panic, guilt, desperation, and, when you finally recover your kid, relief. And then you hug them a little harder than you normally would. It's a horrible feeling, and it is absolutely unconscionable to me that anyone would inflict it not by accident or out of necessity, but as a choice.
But here's why I think this is something the church needs to speak out about. On Thursday, the attorney general was giving a speech defending this policy, and he brought the Bible into it. He said, "I would cite you to the Apostle Paul and his clear and wise command in Romans 13, to obey the laws of the government because God has ordained the government for his purposes."1 And he appealed to those he called "church friends"—people like us—to recognize and support the rightness of the administration's choice to separate undocumented children from their parents. That goes beyond saying, "This is a hard thing to do, but I believe it's right." What he's saying is, "God wants this." He's saying God wants panicked children and parents, lasting trauma, and the severing of one of the deepest human relationships there is. He's telling us God wants it. And he's explicitly asking the church to agree. That's why I don't think we can let this go.
This is not politics-talk, but faith-talk, and it's a slander against God. The God of the Bible identifies migrant foreigners as people deserving of special protection and concern. The God of the Bible says, "The alien who resides with you shall be to you as the citizen among you; you shall love the alien as yourself, for you were aliens in the land of Egypt" (Leviticus 19:34). The God of the Bible says, "You shall also love the stranger, for you were strangers in the land of Egypt" (Deuteronomy 10:19).
Jesus points to children in their dependency and openness and humility as examples of what kind of person is able to receive God's kingdom, and he says that for anyone who puts a stumbling block in front of them, it would be better for that person to have a millstone fastened around their neck and to be drowned in the sea (Matthew 18:4-6).
And if you read far enough in Romans, in the thirteenth chapter that the attorney general was talking about, when he was saying that God wants us to follow the law, with no exceptions, you find this: "Love does no wrong to a neighbor; therefore, love is the fulfilling of the law" (Romans 13:10). What God requires of us is not blind obedience to inhumane law, but love. God is love. God loved us enough that when we were still sinners, God sent Jesus to lay down his life for us. God's love looks like mercy, like forgiveness, like forbearance, like grace, like making a sacrifice in order to give us a new beginning. If the God you encounter in scripture doesn't look like the God we know through the story of Jesus, take another look, because you're reading it wrong. And if anybody describes to you a God who requires you to commit acts of cruelty and says, "We have to follow this 'god,'" there's a name for that: blasphemy.
There's plenty of hurt in this world, just because life is what it is. And you don't have to be a Christian to recognize that, while there are so many things we can't control in this world, we can choose to treat one another with kindness and generosity. But as Christians we have a special calling. It's our task to sow the seeds of God's kingdom, the message of God's rich mercy and grace in Jesus. You do that through the way you relate to your family and neighbors. You do that through the way you respond to the hurts you discover in your community and the world at large. And you do it through standing for and with those who stand on the outside of our society's protection and benefits. You do it through the way you participate in the systems of law and government that we all have a share in, through the people you vote for to exercise power in our name and the demands you make on them afterward.
There will come a time for harvest, Jesus says. There will be a moment when we will stand before God with the fruits of everything we have sown, both good and bad. But remember this: God can bless and nourish even the smallest good seed into something wonderful. Even a mustard seed's worth of faith can grow into a shelter for God's creatures in need of a home, Jesus says. Why not put God's promise to the test? Come harvest time, the fruit of the smallest kindness or the simplest good word you offer today will astound you. To God, who by the power at work in us is able to accomplish abundantly far more than we can ask or imagine, to God be glory in the church and in Christ Jesus to all generations, forever and ever (Ephesians 3:20). Amen.
Footnotes
Quoted in Julie Zauzmer and Keith McMillan, "Sessions cites Bible passage used to defend slavery in defense of separating immigrant families." Washington Post. 15 June 2018. https://www.washingtonpost.com/news/acts-of-faith/wp/2018/06/14/jeff-sessions-points-to-the-bible-in-defense-of-separating-immigrant-families/?utm_term=.a0726ca2d92b. Accessed 6/15/2018.