Text: Luke 4:14-21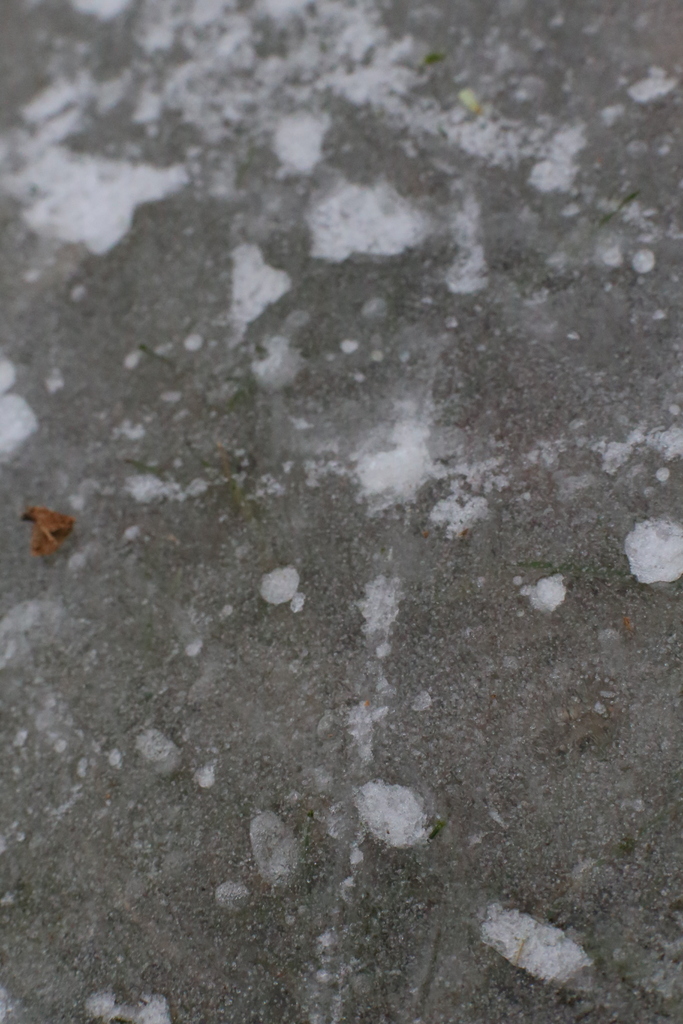 Photo by David Baer. Copyright © 2019. All rights reserved.
Last week when we gathered here in the sanctuary there were a couple of inches of snow on the ground, and then the skies opened up with a downpour of rain that pooled on top of the snow. As the temperatures crashed into the twenties and teens in the afternoon, it left a frozen pond in our front yard. I don't think that's ever happened before—it only came about because of the unique weather conditions. It wasn't a big patch of ice, maybe eight feet across and fifteen feet long, but it was enough. The kids strapped on their ice skates and glided back and forth over their makeshift rink, sometimes spinning, sometimes falling, lost in the fun of it all. It lasted a couple of days. When I came home from the presbytery meeting on Tuesday night, it was late enough that I expected the kids to be in bed, but there they were, at 9 o'clock, sliding over the ice that was due to melt the next day. Sometimes a unique opportunity, a singular moment lands right in your front yard, and you have to seize it, now, today, before it's gone.
There are unique moments, and then there is ordinary time. During the week our household has a routine—up between 6:30 and 7, out the door by 8:20 (hopefully), and a whole lot of eating and dressing and brushing of teeth in between. My ordinary time includes time to be with some of you for Strength and Spirit on Tuesday nights, and Bible Study on Thursday morning. And here we are on the Christian Sabbath, at our regular service of worship, gathered together to praise God, to pray together, and to hear the message of the scriptures. Ordinary time is important. It's vital. It helps shape who we are as the years pass—our relationships with family, neighbors, friends, and colleagues; our formation as followers of Jesus; our skills and our fitting in with a team. Ordinary time is important, but it's not there but in the extraordinary moments that we're confronted with a choice and given an opportunity to discover who we are.
Today's gospel story begins with a story about ordinary time. It's the Jewish Sabbath day, a time for rest from everyday work, and for gathering in the synagogue to hear the scriptures read and interpreted by a rabbi, a teacher. This is part of the rhythm of life in the sleepy hill town of Nazareth where Jesus grew up, and the story tells us that it is part of his routine as well. The observance on that day would have involved readings from the Torah—or the Law of Moses, the first five books of the Bible—and the Prophets. As a rabbi of growing renown, Jesus is invited to read and interpret the reading from the prophets appointed for that day. He stands up, receives the scroll, and finds his place, and reads the words from the book of Isaiah: "The Spirit of the Lord is upon me, because he has anointed me to bring good news to the poor. He has sent me to proclaim release to the captives and recovery of sight to the blind, to let the oppressed go free, to proclaim the year of the Lord's favor."
The words quoted in the gospel come from chapter 42 and chapter 61 of Isaiah. These prophetic words were spoken in their own particular moment, when the season of exile for God's people was coming to an end, when God forgave them and granted them a new beginning. But even these words rely on a much older tradition, in the Law of Moses. The "year of the Lord's favor" was the Jubilee year, the end of a period of seven times seven, or forty-nine years. In the Jubilee year, all debts were canceled, all slaves were freed. If a family had sold its ancestral property because of hardship, in the Jubilee year the property reverted to its original owners for no money. It was supposed to be part of the rhythm of Israel's life as God's chosen people—a fresh start, a new beginning, to wipe out the consequences of bad luck and bad decisions and keep the people equal. For Isaiah, who brought a message of hope to the Jewish people living in exile in Babylon, the Jubilee year was a symbol of God's power to decree a new beginning, to start over, to wipe the slate clean. Whatever their sins, whatever their mistakes might have been, the penalty is canceled, and they are free to go home. This is not ordinary time, Isaiah says. It's a special time, a unique moment that needs to be embraced with faith and courage.
In the synagogue on that sabbath day, Jesus was asked not just to read the scripture, but to interpret it. What does this word mean now, for his neighbors and friends, the families he grew up with? Jesus sits down—that was what preachers did in those days: stand up to read scripture, sit down to preach. Everybody looks at him. And he says this: "Today this scripture has been fulfilled in your hearing." What time is it? All of these people, so many of them hopeful, hurting, hungry, the people we know are going to seek him out—sick, grieving, guilty—they want to know, what is the season? And Jesus tells them: Now is the Jubilee. Now is the year of the Lord's favor. It's a new beginning. Your debts are released, your sins are forgiven. You are set free from bondage, and the blessings you lost are restored to you. And it's happening right now, in your hearing.
New Testament scholar Matt Skinner says we should pay attention to that word, today.1 In Luke's gospel, when Jesus is present, he brings a change of season that happens today. The angels crash down on the shepherds with good news of great joy: "to you is born this day in the city of David a Savior, who is the Messiah, the Lord" (2:11). When Zaccheus, the crooked tax collector, says he's going to pay back everyone he cheated four times over, Jesus announces, "Today salvation has come to this house" (19:9). When the thief on the cross confesses Jesus as king, Jesus transforms the worst day of his life by saying to him, "Truly I tell you, today you will be with me in paradise" (23:43). Jesus brings a new beginning that is as immediate as his presence. Because he is here, now, today, the time of God's favor has come.
That can be a hard message to believe. It would be much easier to believe Jesus if he said that the scripture was to be fulfilled soon, rather than today. It's possible to imagine all kinds of good things happening soon. The physical infirmities we live with might clear up soon. The hurts we carry in our troubled relationships might be resolved soon. The guilt I live with from bad choices I've made… I can imagine making it up to the ones I've let down soon. The troubled politics of our country that just brought federal employees—people we've been praying for like the Calkins' nephew Alex, and our own Rick Burns—through a senseless month of anxiety and hardship… It would take a miracle, but we could imagine our nation's public life getting better soon. For the scriptures to be fulfilled, for there to be good news and release and forgiveness and a new beginning soon requires hope and imagination. But for us to believe Jesus when he says that the scriptures are fulfilled today takes a gift of faith and trust we can only receive from the Holy Spirit.
And it takes the presence of Jesus himself. Jesus has the right to say what he says only because right there, in his own person, is the means of making good on his promise. A bit later in his ministry, Jesus is going to be questioned by those who are skeptical and disillusioned, and his answer is to point to the work he is in the midst of doing: "the blind receive their sight," he says, "the lame walk, the lepers are cleansed, the deaf hear, the dead are raised, the poor have good news brought to them" (Luke 7:22). Do you hear the echoes of today's message? Jesus has the right to say what he says, he has the right to ask us to trust in God's promises today, because he's the living embodiment of their fulfillment. Anybody can say that salvation, deliverance, a new beginning is coming soon. Only Jesus, filled with the power of the Spirit, can say that it's here today, and demonstrate it with his life.
The immediacy of Jesus' message, its urgency, calls out to us too. Today Jesus is here with us, in the gathered community, and in the message of the scriptures. Today there's a new beginning with our name on it, today there is power to transform our own life, if we trust in it and lay hold of it. Today there is someone in your life whom you've written off, but whom God very much wants to bless. Today there's a choice you've been putting off that God very much wants you to make. Today there's a burden you've been carrying that God very much wants to relieve. Salvation is present for you today… Don't put it off, don't let it slip through your fingers. And maybe it's through your witness, maybe through the choices and actions that you make today that Christ can be embodied and present for other that are looking for their own new beginning.
The apostle Paul writes, "Now is the acceptable time, now is the day of salvation!" (2 Corinthians 6:2). Wherever Jesus is, it's time for Jubilee, forgiveness, freedom—not soon, but today. Believe it, seize it, live it—today. Amen.
Footnotes
Matt Skinner, with Rolf Jacobson and Kathryn Schifferdecker. "Narrative Podcast #252 - Sermon at Nazareth." WorkingPreacher.org. http://www.workingpreacher.org/narrative_podcast.aspx?podcast_id=834. Accessed 27 Jan 2019.